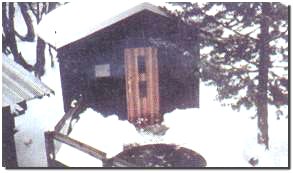 After an exhilarating ski on the Falls Creek slopes, soothe your tired muscles in our ever popular outdoor sauna and spa, the only outdoor combined hot spa and sauna.
If you follow the Scandinavian example, then you would know that a sauna and a slow roll over in the snow in between, is a very good remedy for easing rheumatic pains.
The hot spa is a good relaxation after skiing, it eases your tired muscles and it is a perfect way to meet new lodge friends over a glass of champagne.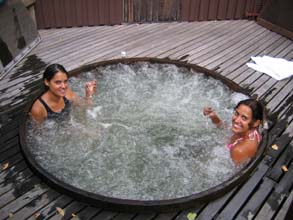 The Karelia's hot spa and sauna are exclusively for our house guests only. Our guests are advised to bring their own beach towels.
Dressing gowns can be hired at $30 each and towels at $5 each. Alternatively our dressing gowns and towels are for sale as souveniers.