Parking is available in the village carpark or Mt Beauty were you can catch a bus to Falls Creek. Getting to Falls Creek is easy, whether you choose to drive yourself or take a coach.
The Alpine Road from Mt Beauty to Falls Creek is about 30 km long and snow chains must be carried at all times (declared Victorian Winter Season). The snow chains can be hired from "Ski Plus" in Mt Beauty (Ask for Karelia's Discount).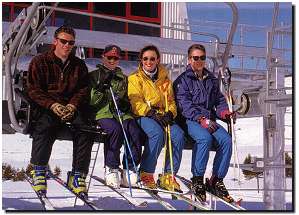 On arrival at Falls Creek,the car park attendant will direct you. First you have to unload at the Falls Creek Oversnow Terminal. You will then be escorted to the car park area. Once you have parked your car, there will be a courtesy vehicle to take you back to the Oversnow Terminal from where you have to take the Oversnow Transport to the Lodge.
Alternatively you can leave your car in Mt Beauty at Falls Creek Coaches Terminal and take the local Coach to Falls Creek. The transfer time from Mt Beauty to Falls Creek is about 45 min. For the cost of parking, coach fare and time table, please contact Falls Creek Coach Service on
Ph: +61 3 5754 4024.